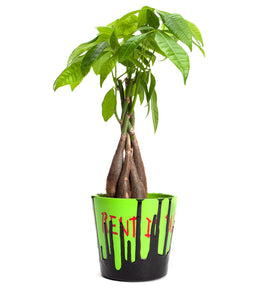 The Pachira Aquatica aka Money Tree is considered a symbol of prosperity, good luck , wealth, good fortune, money, luck, answered prayers, and positive energy. The plants are sourced from D.C.'s Grounded Plants*. The custom Terracotta Pot features a hand painted OG Rent Is Due logo. Each pot was then hand-dipped into a vat of black liquid rubber for a cool, seal tight finish*.
Allow soil to dry out between watering
Prefers bright, indirect light and moderate-to-high humidity 
*For more information on keeping up on all your plant's needs kindly visit www.grounded-plants.com
*Each pot is unique. Please note that finishing's may vary. Please allow 7-10 days for your order to be processed and shipped.